Originally published: Ed Tech Magazine | By Monique L. Snowden and Tracy Petrillo | Oct 24, 2017
IT staff can thrive when leaders create opportunities for one-to-one professional development.
Higher education's reliance on technology has dramatically changed the nature of IT organizations, reshaping both their operations and the relationships that exist among IT professionals. We often talk about operations, but we spend far less time discussing associations among colleagues. At any higher education institution, this is a diverse group that includes employees, contractors, vendors, consultants, service providers and hosting agents.
Now more than ever, an effective IT enterprise relies heavily on the relationship-building skills of those who are responsible for the technical systems that support the institution. To achieve their highest potential, IT teams should invest as much energy and effort in the development of well-rounded professional competencies as they do in the acquisition of technical skills.
Mentoring can play a significant role in both personal and professional development. Yet, it is often under­utilized and undervalued on both the giving and receiving ends.
Mentoring Can Help IT Achieve Potential
EDUCAUSE emphasizes the value of mentoring from both a career and a psychosocial perspective. This conception of mentoring is more expansive than the traditional view (that is, as a purely formal, unidirectional and one-up/one-down relationship).
A broader understanding of mentoring recognizes that some of the most effective relationships are those that empower and lift mentees upward across a rich map of career and life path relationships.
We recommend that individuals create a "mentor map": a personalized network of mentors and peers who can facilitate growth in specific areas. A mentor map explores the informal relationships that support and challenge an individual, and it can allay the anxieties that often accompany formal, highly structured interactions between sages and aspiring proteges.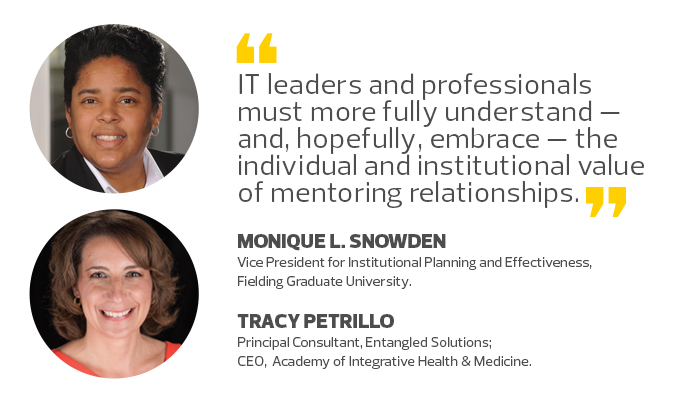 John Crawford Crosby, a member of the U.S. House of Representatives in 1890 and, later, a justice of the Massa­chusetts Supreme Judicial Court, noted that "mentoring is a brain to pick, an ear to listen and a push in the right direction." In higher education, the pace of change within IT calls for adaptive relationships, in which mentors can guide in one functional area while seeking direction and support in other aspects of work. Trustworthy communication, as opposed to concerted control, is the foundation of strong mentoring relationships.
For the mentor, it's not about controlling another's professional persona or fate; it's about being trusted by another to jointly conceive professional capabilities and possibilities.
And for the mentee, it's not about taking on another's professional interests or personal values. It's about becoming more confident in who you are, what you want to do, where you want to go, and what type of professional you are today and want to be tomorrow. Just as technology requires maintenance, people require ongoing support to contribute productively, take risks and learn from failure.
IT Departments Must Invest in Human Assets
Colleges are ever more dependent on sustainable technology solutions, infrastructure and workforces to support their institutional missions. To that end, IT leaders and professionals must more fully understand — and, hopefully, embrace — the individual and institutional value of mentoring relationships.
It is not a stretch to suppose that the success of individual institutions will hinge on the willingness of IT leaders to strengthen their mentoring relationships. People are the asset. People support the tools and the technology that drive both innovation and education. Mentors create the personnel infrastructure that can support decision-making, adaptation and action.
Monique L. Snowden is the vice president for institutional planning and effectiveness at Fielding Graduate University and a faculty member in the School of Leadership Studies. Tracy Petrillo is a principal consultant with Entangled Solutions, CEO of the Academy of Integrative Health & Medicine, and past chief learning officer of EDUCAUSE.